The East African Community Medical Board, the umbrella body of all institutions that regulate training in Surgery and Medicine in the region visited Mount Kenya University Thika Main Campus recently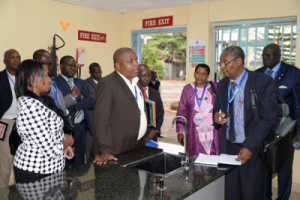 The visit also doubled up as an accreditation exercise, which will build on the validation the University received from the Kenya Medical Practitioners and Dentist Board in 2014. Accreditation by KMPDB paved the way for the launch of Bachelor of Medicine and Bachelor of Surgery (MBChB) programme, and subsequent establishment of the MKU Medical School
The EAC Medical Board is the umbrella body that is mandated under the East African Community  to oversee the training and practice of medical doctors in the region.
The inspection was to assess the academic resources available to the training of medical doctors in the University program that is currently in its 2nd year level of compliance. The Medical School is under college of Health Sciences.
The University has adequate infrastructure which includes state-of-the-art Science Laboratories, a modern Anatomy Laboratory/Funeral Home at Thika Level 5 Hospital. In addition it is in collaboration with Machakos Level 5 Hospital and other strategic partners.
The exercise was not singled out for MKU only but for all the Regions' Medical Schools.  The exercise has already been undertaken in Tanzania, Uganda and now in Kenya after which they go to the great lakes Countries i.e. Rwanda and Burundi.
In respect to MKU the exercise went on very well and we are optimistic that we shall get the accreditation by the EAC Medical Board.
We are currently accredited by the Kenya Medical Practitioners and Dentist Board of this Country and Students on course.