The Medical Practitioners and Dentists Board has approved the establishment of the MKU School of Medicine. The approval comes hot on the heels of the opening of the General Kago Funeral Home cum Anatomy Laboratory cum, which will provide a platform for students to acquire practical skills.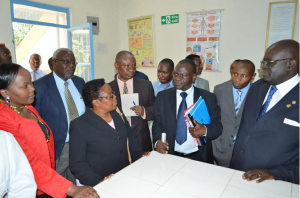 "The Medical Practitioners and Dentists Board, having inspected the institution is satisfied that the university has put in place the requisite infrastructure facilities and relevant faculty to offer this course," said Prof George Magoha, Chairman of the Medical Practitioners and Dentists Board, who is also the Vice Chancellor of University of Nairobi.
MKU has been awarded 50 slots of the Bachelor of Medicine and Bachelor of Surgery courses.  It is the only fully private university offering these capital-intensive courses. Other local universities offering these courses are Kenya Methodist University, Uzima University, University of Nairobi, Kenyatta University, Moi University and Egerton University.
The General Kago Anatomy lab was constructed by MKU under a unique public-private partnership at a cost of Ksh300 million.
Prof Kimathi Kigatiira, Dean, School of Medicine, says the first batch of 50 students will be admitted in September this year. "We will be guided by the criteria that governs admissions to medical schools in Kenya, that is, a minimum if B grade in the secondary school exams and an equivalent in every cluster subject, that is languages and sciences."
"The training of more doctors is a timely venture as Kenya has only 8,711 medical and 1,047 dentists registered and only 5,800 medical doctors and 518 dentists are retained in the annual register as at January, 2014," said Prof Magoha.